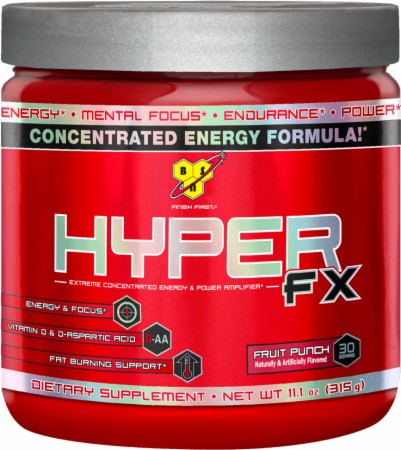 BSN Hyper FX – 30 Servings – Fruit Punch
Price: $24.99
Availability: in-stock
Just a quick review of BSN's new Hyper FX. I went to pick up a pre-workout drink today and to my surprise I saw a new product from BSN. I asked the guy at the supplement booth what people had been saying about it and apparently everyone likes it better than NO-Xplode. It is comes in a smaller bottle, just like USPLab's Jack3d and is a little cheaper in price, so I bought it.
Hyper FX and Jack3d Similarities
Right when I took it I got the same buzz as if I had taken Jack3d. It was a little easier to put down than a full serving of NO-Xplode too. I think this is BSN's attempt to compete with USPLabs, because Hyper FX and Jack3d are almost identical as far as I can tell.
Beta-Alanine
I got the same tingling sensation as if I had taken Jack3d so it obviously has Beta-Alanine in it. If you look at the label of most pre-workout drinks you will find the mix of ingredients almost the same.
BSN Hyper FX – 30 Servings – Fruit Punch, Price: $24.99, Shipping: 3.99